U18AA & U18A Coaching Announcement
---
---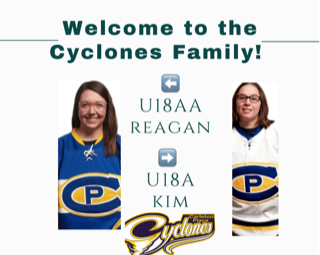 ---
Coach Fischer Bio
Coach Fischer is extremely excited to join the U18AA Cyclones in their inaugural season. She grew up in small town, Irma, Alberta where sports are a large part of the community, starting hockey at the age of four and playing competitively through to post-secondary NCAA Div 1 at Dartmouth College in Hanover, New Hampshire.
As a member of the Big Green, she earned two ECAC Defensive Forward of the Year awards, team MVP and Offensive Forward awards, and was voted team captain twice. A two-time member of Team Alberta and an alum of an Ivy League institution, Fischer understands and appreciates what it takes for a student athlete to succeed in a high performance environment, both athletically and academically.
Relying on her experiences both on and off the ice as a player, leader, coach and mentor, Fischer aims to create a culture of growth, development, work ethic, positive attitude and ultimately success, where both the team and the individuals have the means to reach their full potential.
Fischer has also played competitive softball, curling and ball hockey. In her spare time, she enjoys spending time with family and friends, playing sports and spending time outdoors.
---
U18A Coach Fraser

Kim Fraser is a native of Brockville Ontario. She has 20 plus years within the hockey community, both playing and coaching within multiple organizations throughout Eastern Ontario. She fell in love with the game of hockey at a young age and eventually landed on some of the top U18 AA and Senior AA teams in the province.

Her coaching career has consisted of head coaching both male and female competitive teams through the ages of U11 to U18. Most recently for the 2021/2022 season she had the opportunity to be an assistant coach with the U14 AAA Upper Canada Cyclones program.

Now a retired Canadian Armed Forces Veteran, she has had the core values of Integrity, Loyalty,
Teamwork, and Leadership ingrained in her throughout her military career. She transfers those values into her coaching style and hockey programs. While serving in the CAF she had the opportunity to represent hockey at the Regional and National levels and soccer at the Regional, National, and international levels before switching over to coaching the Garrison Petawawa Women's Hockey team.

Kim is excited to be joining the high-performance program here in Carleton Place and is looking forward to the 2022-2023 Season.